Make plans now to commemorate YOUR newspaper
during this special celebration!
This 150th anniversary year of the Nebraska Press Association has prompted special recognition to our member newspapers from both the Governor and the Nebraska Legislature.
At NPA's annual convention in April, Gov. Pillen issued an in-person special proclamation designating the week of June 26th — 30th, 2023 as COMMUNITY NEWSPAPER WEEK in Nebraska. In addition, the Nebraska Legislature adopted Legislative Resolution 87 to congratulate NPA on its Sesquicentennial year. It was introduced by Speaker John Arch.
To help members plan for that week at the end of June, NPA staff and board members came up with a list of ideas of ways to help celebrate.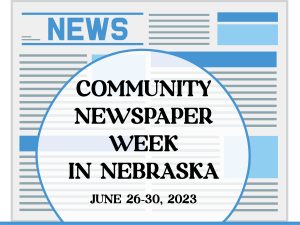 community newspaper week ideas
In-paper
Publish a copy of the governor's proclamation, along with a personal column by the publisher.
Hold an Open House
Connect with your community members by inviting them to your office one afternoon that week for cookies & coffees…good chance to meet & greet long-time readers and, hopefully, some new ones.
Guest speaker
Ask now to be the speaker that week at one or more civic clubs in your community.
blank page
In the week before, during or after this special week, run a blank full page – with only a statement at the bottom something like: "If there was no local newspaper to report the news…"
sampling
Great opportunity to use sampling privileges with periodicals postage permit to deliver a copy of your newspaper to every home in your community & surrounding rural routes – or even countywide. There will be costs involved so calculate those carefully; let your advertisers know about the expanded distribution and charge an appropriate increased rate for that week; plan content, including guest local columnists. Have a discussion in advance with your printer and your postmaster so all steps are done correctly.
subscription drive
Urge the community to subscribe, extend their subscription, and/or purchase a gift subscription…..do not offer discounts – you are well worth the full price of your subscription!
pages of the past
Special tab of "big news or historic" front pages from your archives; sell sponsor strip at bottom of each page. This will be a popular section and will show people how the newspaper has chronicled the history of the community/region over the years.
use community newspaper week logo
Use the Community Newspaper Week logo in your newspaper leading up to the week. There will be Community Newspaper Week network house ads sent out for the week of June 26.
"thank you readers" page
Picture-page collage of local residents reading your newspaper…….use long-time subscribers as well as local officials, advertisers, students, etc. Caption could be something like: During this week that celebrates Nebraska's community newspapers, we thank YOU for reading (name of your newspaper).
"thank you readers" gift
Give subscribers a chance to win a company gift basket. They can call or email or stop in your office to enter. The basket will include some cool newspaper bling, gift certificates to a couple of local advertisers, etc.